Top Tips For Safe Night Driving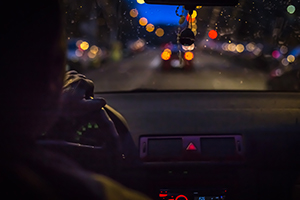 As the time changes and the nights are drawing in earlier, it is important to be safe when driving in the dark and make sure you are extra vigilant and careful, not just to protect yourself but others too. We all know that driving in the dark is more dangerous and it has been reported that 40% of all collisions occur in darkness. There are many things that you can do to reduce the risks associated with night time driving. In this blog we are going to provide you with some of our top tips.
Headlights
Whether it is dusk or pitch black, your vision is reduced as soon as the light starts to fade so making sure you have your headlights on is important. Many modern cars will automatically turn the headlights on when it reaches a certain darkness, it is advised that you turn on your headlights an hour before sunset and in the morning you keep them on for an hour after sunrise. This will allow other drivers to see you in shallow light.
Check Your Lights Regularly
Especially in winter when you use your headlights more frequently, you need to make sure that all of your lights, headlights, and brake lights work- this is a legal requirement. Regular headlight maintenance is a quick job, turn on your lights, walk around the car and check they all work. If a bulb has blown, have it changed as soon as possible otherwise you may face a fine. The team at Off Rhodes Garage are on hand to help you if you require any repairs carrying out.
Clean Your Windscreen
Making sure that your water is topped up so that you can wash your windscreen when needed is crucial. It must be clean on the inside and out and this will help you to make sure you can see better not just during the night but in the day. When you are driving towards the sun and your windscreen is dirty, it can make it incredibly hard to see and be very dangerous.
For more information on our services such as repairs, MOT or servicing, call us on 01748 811 500 or visit www.offrhodesgarage.co.uk