New Driver? No Problem!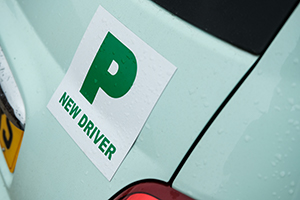 We understand that the first few months of driving can be daunting for most drivers, and this is completely normal. Driving is a brand-new skill so it will often take a little while to be completely comfortable behind the wheel. In this blog we will share a selection of tips to make the start of your driving journey a little less stressful, and much more exciting and safe.
Testing, Testing…
Car safety checks are essential when embarking on a road trip or even just a simple drive to the shop. Getting into the habit of performing these tests is a great way to ensure your car is safe to drive…
Tyre tread
Tyre pressure
Fuel level
Oil level
Water level
Lights
Continue Learning
Driving instructors will typically teach in the safest and easiest circumstances which is why it is incredibly important to keep learning how to drive in more adverse conditions. For example, it may be beneficial to try driving at night and in heavy rain/snow with an experienced driver to ensure maximum safety and build confidence. We all know that British weather can be temperamental, so it is essential to be prepared for anything.
Blind Spots
Your mirrors are a fantastic tool for checking what is behind your vehicle, but they actually only have the ability to show what is in your peripheral vision. Because of this, it is in the best interest of you and other road users to check your blind spots every time you change lane. You never know if a bike or small car could be lurking.
On this same topic, it is also important to make sure that you don't enter the blind spot of other vehicles as this could end poorly should they suddenly brake. In this case, you should either accelerate to pull alongside them or safely drop back until you are in the view of their mirrors.
Decline The Call… Driving Is More Important 
Although using a mobile phone while driving is in fact illegal, a lot of road users seem to think that this is a law that doesn't apply to them. This however could not be further from the truth. If you are caught, it could land you a hefty £200 fine and six points on your license, which also means disqualification if you passed your test in the last two years. Make sure that you are always paying attention to the road ahead.
If you are looking for a reliable garage to take care of your first car, visit Off Rhodes Garage. We offer a range of services to keep your vehicle safe and road legal including MOTs, Repairs and Servicing.
Contact us for more information.