New Number Plate Laws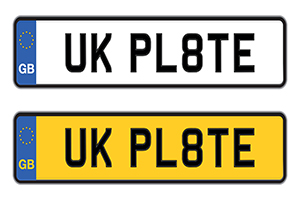 Did you know that there have been new rules enforced by the Government which means drivers that are wishing to travel to Europe in their vehicle will have to remove any Gb stickers or magnets from their number plates? This law will have a significant effect on all UK motorists who are wishing to travel abroad.
All road users will have to remove stickers and magnets from their number plates before entering Europe and driving in Europe. Instead of having the sticker/ magnet with GB on the bottom, it will need to have UK instead. Drivers will need the UK sticker if their number plate has a GB identifier with the Union Jack, a Euro symbol, or a national flag.
Motorists will have two options…. Ordering a sticker that is correct for driving in Europe or ordering a new number plate with the UK designation. The United Nations said: "The United Kingdom is changing the distinguishing sign that it had previously selected for display in international traffic on vehicles registered in the United Kingdom, from 'GB' to 'UK'.
Other Recent Changes To Driving In The UK
There have been many Brexit-related changes over the last couple of years and for anyone who has lived abroad and is now back in the UK, there are other rules that you may not be aware of. Mobile phone usage when driving is no longer permitted, you are now NOT allowed to hold your phone while driving and it must not be a distraction to you, the driver.
There are also other upcoming changes to driving in the UK which is set to include mandatory speed limiters in new cars from 2022, and the possible introduction of Automatic Lane Keeping Systems (ALKS). These measures are being put into place to protect all motorists.
Learn more information on our services such as repairs, MOT or servicing, call us on 01748 811 500 or visit www.offrhodesgarage.co.uk