Road Trip Essentials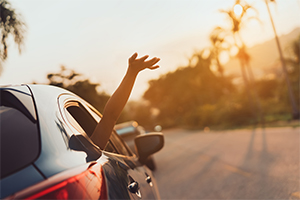 We predict that staycations will be incredibly popular this summer due to the restrictions imposed by the government, but this is a fantastic opportunity to explore the wonders right on our doorsteps.
 It is always important to fully prepare for a longer road trip because you never know if or when the worst may occur. In this blog we will discuss some of the ways to make the most of your road trip and be safe while doing so.
Check, Check, Check Again
It is important to always conduct a full range of checks on your car before embarking on a trip. These include checking engine oil levels, lights, window wipers and tyres.
Most cars come with a spare tyre. They are often located under the car, attached to the back of the vehicle or located in the boot. If you are renting a car, ask the rental company where you can find it. Having a spare tyre can often be a godsend when the worst happens as there are many reasons why tyres may become flat: wear and tear, bad road conditions, and even heat can contribute to flat tyres.
Paperwork
When travelling, paperwork is perhaps the most crucial item you must remember. Whether you are at in the UK or abroad, ensure that you are licensed to drive. If you are abroad, you may need to obtain an international driver's license because for some countries, your home license is not enough. It is always beneficial to check with local laws before departing for your road trip. Carrying your passport at all times when abroad is also incredibly important.
In terms of hire cars, it would be useful to carry the booking information and all necessary information associated with the car – it is better to be safe than sorry!
Because of the current climate, it is also vital to carry vaccine information and proof of a negative Covid test if possible.
Insurance
Make sure you and your car are protected against accidents. If your car is hit or you get into an accident you are financially protected with car insurance. It usually comes at an additional cost at most rental companies, but it is mandatory to drive with insurance in many countries.
Map
Although most road users now may have access to smartphones with maps at their fingertips, it is extremely beneficial to carry a physical map. Technology can be unreliable so having a map available at all times can be a lifesaver.
Snacks and Drinks
If you are travelling on main roads and motorways, chances are that there will be service stations and shops to purchase food and drinks, but for some journeys this may not be possible. When travelling on smaller back roads it is useful to have supplies in your vehicle for those sudden moments of thirst and hunger – especially is there are children on board. It is always important to ensure that they are accessible to minimise distraction.
Entertainment
Embarking on a road trip with children may be daunting in and of itself so it is important to take provisions that will keep them entertained and save parents' ears from the dreaded "Are we there yet?" Games, electronics and music are some of our recommendations for keeping the little ones busy, but we are sure that you know what is the best option of your kids.
If all else fails – the dreaded I spy!!!
This concludes our selection of road trip essentials. When tackling longer trips it is valuable to conduct some further research yourself to ensure that you have all of the right items for where you are headed.
If you are looking for vehicle maintenance, trust Off Rhodes Garage. We offer servicing, MOTs and repairs, amongst many others!
Contact us if you have any questions.